1.The length of the short structure can save raw materials and installation space, and also effectively support the strength of the pipeline.

2.The valve block is the correct movement of the gate, extrusion fast, to ensure effective sealing valve.

3.Triangle support material, guarantee the required mechanical properties.

4.According to different working conditions demand design V, triangle, or five corners and other ports, in order to meet the needs of various flow regulation.

5.No groove at the bottom to make sure no slag and full bore flow.

6.Pango valve strict implementation of the API598 experimental standard, for each product to implement 100% positive and negative double pressure test, guarantee delivery to customers is 100% qualified products.

7.Pango Group dedicated to the dedication of the valve for 23 years, with professional production, sales, research and after-sales team,we are your strong backing.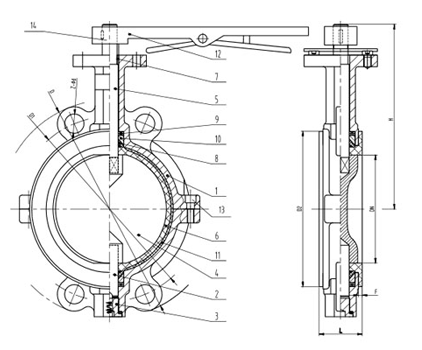 Parameter Information:
Dimensions:
SIZE
A
B
C
L
JI8 5K
JI8 10K
ISO 5211
Top
B1XB1
mm
in
ΦK
N-Φd
ΦK
N-Φd
ΦD
ΦD1
N-ΦG
Flange
50
2"
76
140
32
43
105
4-Φ15
120
4-Φ19
65
50
4-Φ8
F05
9X9
65
2½"
85
152
32
46
130
4-Φ15
140
4-Φ19
65
50
4-Φ8
F05
9X9
80
3"
95
157
32
46
145
8-Φ19
150
8-Φ19
65
50
4-Φ8
F05
9X9
100
4"
110
176
32
52
165
8-Φ19
175
8-Φ19
90
70
4-Φ10
F07
11X11
125
5"
125
191
32
56
200
8-Φ19
210
8-Φ23
90
70
4-Φ10
F07
14X14
150
6"
139
202
32
56
230
8-Φ19
240
8-Φ23
90
70
4-Φ10
F07
14X14
200
8"
175
243
45
60
280
8-Φ23
290
12-Φ23
125
102
4-Φ12
F10
17X17
250
10"
203
283
45
68
345
12-Φ23
355
12-Φ25
125
102
4-Φ12
F10
22X22
300
12"
238
322
45
78
390
12-Φ23
400
16-Φ25
125
102
4-Φ12
F10
22X22