1. Excell WCB body , standard performance and compisiton materials;
2. Durable PFFE(F46) seat,high chemical stability ;
3. High performance PTFE(F46) screen, anti-corrosion and durable ;
4. Customized creen mesh;.
5. The welding adopts robot automatic welding to form at one time, and the welding seam is flat and firm.
6. Each valve will be made pressure test for seal and shell before leaving factory.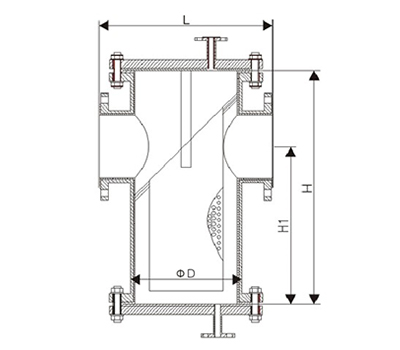 | | | | | |
| --- | --- | --- | --- | --- |
| Name | Design and manufacture | | Pressure standard | Flange standard |
| Stanadard | SH/T 3411-2017 | | GB/T 13927-2008 | HG/T 20592-2009 |
| | | | |
| --- | --- | --- | --- |
| Name | Body | Scrren | Gssket |
| Materials | Q235+F46 | F46 | PTFE |
| | | | | | |
| --- | --- | --- | --- | --- | --- |
| DN | NPS | L | ΦD | H | H1 |
| 25 | 1'' | 260 | 108 | 330 | 200 |
| 32 | 1 1/4'' | 260 | 108 | 330 | 200 |
| 40 | 1 1/2'' | 260 | 108 | 330 | 200 |
| 50 | 2'' | 260 | 108 | 330 | 200 |
| 65 | 2 1/2'' | 340 | 159 | 430 | 280 |
| 80 | 3'' | 340 | 159 | 430 | 280 |
| 100 | 4'' | 400 | 219 | 490 | 305 |
| 125 | 5'' | 500 | 273 | 635 | 420 |
| 150 | 6'' | 500 | 273 | 635 | 420 |
| 200 | 8'' | 560 | 325 | 785 | 525 |
| 250 | 10'' | 660 | 426 | 895 | 640 |