Seaworthy packing:
1.PTFE Seat wafer butterfly valve is packed with foam plastic bag.

2.Put sponge in each floor, 1.1*1.1*0.78m export plywood case.

3.One 20' container can in bulk loaded on 24pcs plywood cases more or less.

4.We can pack according to specific customer requests.

5.Customers' logos are available on package.

6.Low Torque,long life cycle.

7.360°polished disc assures positive on-off.

8.Epoxy coated body,smooth surface.

9.Various kinds of materials,applicable to different medium.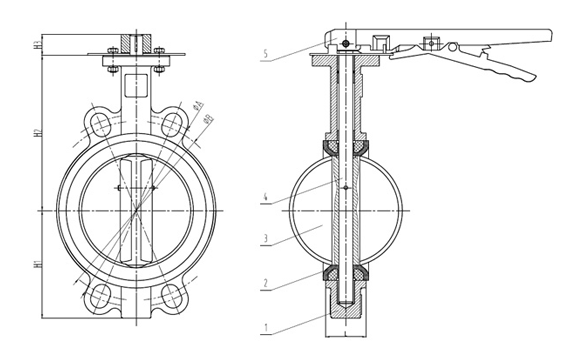 Parameter Information:
1. Executive standard:
| | | | | | |
| --- | --- | --- | --- | --- | --- |
| Name | Design and Manufacture | Face to Face Length | Pressure Test | Flange Drilling | Top Flange |
| Reference Standard | API 609, MSS SP-67 | API 609, MSS SP-67, DIN3202, BS EN558-1 | API 598 | ANSI B16.1 class125, BS4504 PN10/PN16, DIN2501 PN10/PN16 | ISO5211 |
2. Dimensions:
SIZE
A
B
C
L
DIN PN 10
DIN PN 16
ANSI 150B
JIS 10K
ISO 5211
Top Flange
B1XB1
mm
in
ΦK
N-Φd
ΦK
N-Φd
ΦK
N-Φd
ΦK
N-Φd
ΦD
ΦD1
N-ΦG
40
1.5"
67
141
32
33
110
4-Φ18
110
4-Φ18
98.5
4-Φ16
105
4-Φ19
65
50
4-Φ8
F05
9X9
50
2"
67
141
32
43
125
4-Φ18
125
4-Φ18
120.6
4-Φ19
120
4-Φ19
65
50
4-Φ8
F05
9X9
65
2½"
75
151
32
46
145
4-Φ18
145
4-Φ18
139.7
4-Φ19
140
4-Φ19
65
50
4-Φ8
F05
9X9
80
3"
95
160
32
46
160
8-Φ18
160
8-Φ18
152.4
4-Φ19
150
8-Φ19
65
50
4-Φ8
F05
9X9
100
4"
111
180
32
52
180
8-Φ18
180
8-Φ18
190.5
8-Φ19
175
8-Φ19
90
70
4-Φ10
F07
11X11
125
5"
129
193
32
56
210
8-Φ18
210
8-Φ18
215.9
8-Φ22.4
210
8-Φ23
90
70
4-Φ10
F07
14X14
150
6"
142
207
32
56
240
8-Φ22
240
8-Φ22
241.3
8-Φ22.4
240
8-Φ23
90
70
4-Φ10
F07
14X14
200
8"
170
240
45
60
295
8-Φ22
295
12-Φ22
298.4
8-Φ22.4
290
12-Φ23
125
102
4-Φ12
F10
17X17
250
10"
206
270
45
68
350
12-Φ22
355
12-Φ22
361.9
12-Φ25.4
355
12-Φ25
125
102
4-Φ12
F10
22X22
300
12"
238
316
45
78
400
12-Φ22
410
12-Φ26
431.8
12-Φ25.4
400
16-Φ25
125
102
4-Φ12
F10
22X22
350
14"
267
368
45
78
460
16-Φ22
470
16-Φ26
476.2
12-Φ28.4
445
16-Φ25
125
102
4-Φ12
F10
22X22
400
16"
298
400
51
86
515
12-Φ26
525
16-Φ30
539.7
16-Φ28.4
510
16-Φ27
175
140
4-Φ18
F14
450
18"
318
422
51
105
565
20-Φ26
585
20-Φ30
577.8
16-Φ31.8
565
20-Φ27
175
140
4-Φ18
F14
500
20"
349
479
57
130
620
20-Φ26
650
20-Φ33
635
20-Φ31.8
620
20-Φ27
175
140
4-Φ18
F14
600
24"
410
562
70
152
725
20-Φ30
770
20-Φ36
749.3
20-Φ35.1
730
24-Φ33
210
165
4-Φ22
F16