1. Precision casting valve body. Standard WCB material, fine appearance, no trachoma. Each batch of castings have furnace number.
2. Use CNC lathes to machine internals. After the machining, the valve body is shot blasted twice, and the appearance is beautiful.
3. The same diameter valve has heavier weight compared with other manufacturers.
4. the valve seat material is cr-based stainless steel + surfacing 507 molybdenum, increasing the wear resistance of the valve seat.
5. The valve cover and the valve stem are in contact with the valve to prevent the leakage.
6. The valve stem is processed by cyclone milling to avoid the difficulty of switching due to the bending of the valve stem.
7. Each valve is factory tested for pressure according to national standards.
8. From the raw material to the finished product, every process has strict inpection.
9.Pango brand product quality is covered by China Pacific Insurance with two million dollars. Two years warranty, pay two back if one bad within two years. Any quality problems of the product itself, we will pay without conditions.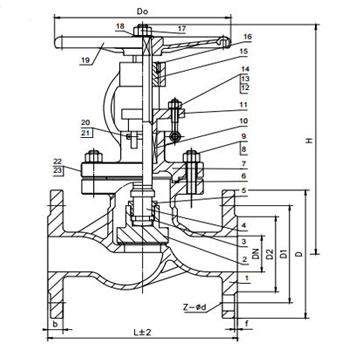 Parameter Information:
1. Executive standard:
| | | | | |
| --- | --- | --- | --- | --- |
| Name | Design and manufacture | Face to face Length | Pressure Test | End Flange |
| Reference Standard | GB/T 12235 | GB/T 12221-2005 | JB/T 9092-1999 | GB/T 9113-2010/EN1092-1 |
2. Material of Main Parts:
| | | | | | |
| --- | --- | --- | --- | --- | --- |
| Name | 1-Body | 2-Seat | 3-Disc | 4-Stem | 5-Handwheel |
| Material | WCB | 13Cr | WCB | 2Cr13 | DI |
3. Dimensions:
Size
PN10
DN
NPS (inch)
L
D
D1
D2
z-Φd
15
1/2"
130
95
65
45
4-14
20
3/4"
150
105
75
55
4-14
25
1''
160
115
85
65
4-14
32
1-1/4''
180
135
100
78
4-18
40
1-1/2''
200
145
110
85
4-18
50
2''
230
160
125
100
4-18
65
2-1/2''
290
180
145
120
4-18
80
3''
310
196
160
135
4-18
100
4''
350
215
180
155
8-18
125
5''
400
245
210
185
8-18
150
6''
480
280
240
210
8-23
200
8''
600
335
295
265
8-23
250
10''
650
390
350
320
12-23
300
12''
750
440
400
368
12-23
350
14''
850
500
460
428
16-23
400
16''
950
565
515
482
16-26
450
18''
1050
615
656
532
20-26
500
20''
1150
670
620
585
20-26
600
24''
1350
780
725
685
20-30
700
28"
1450
896
840
800
24-30
800
32"
1650
1010
950
905
24-34


Size
PN16
DN
NPS (inch)
L
D
D1
D2
z-Φd
15
1/2"
130
95
65
45
4-14
20
3/4"
150
105
75
55
4-14
25
1''
16
115
85
65
4-14
32
1-1/4''
180
135
100
78
4-18
40
1-1/2''
200
145
110
85
4-18
50
2''
230
160
125
100
4-18
65
2-1/2''
290
180
145
120
4-18
80
3''
310
195
160
135
8-18
100
4''
350
215
180
155
8-18
125
5''
400
245
210
185
8-18
150
6''
480
280
240
210
8-23
200
8''
600
335
295
265
12-23
250
10''
650
405
355
320
12-25
300
12''
750
460
410
375
12-25
350
14''
850
520
470
435
16-25
400
16''
950
580
525
485
16-30
450
18''
1050
640
585
545
20-30
500
20''
1150
705
650
608
20-34
600
24''
1350
840
770
718
20-41
700
28"
1450
910
840
788
24-41
800
32"
1650
1020
950
898
24-41


Size
PN25
DN
NPS (inch)
L
D
D1
D2
z-Φd
15
1/2"
130
95
65
45
4-14
20
3/4"
150
105
75
55
4-14
25
1''
160
115
85
65
4-14
32
1-1/4''
180
135
100
78
4-18
40
1-1/2''
200
145
110
85
4-18
50
2''
230
160
125
100
4-18
65
2-1/2''
290
180
145
120
8-18
80
3''
310
195
160
135
8-18
100
4''
350
230
190
160
8-23
125
5''
400
270
220
188
8-25
150
6''
480
300
250
218
8-25
200
8''
600
360
310
278
12-325
250
10''
650
425
370
332
12-30
300
12''
750
485
430
390
16-30
350
14''
850
550
490
448
16-34
400
16''
950
610
550
505
16-34
450
18''
1050
660
600
555
20-34
500
20''
1150
730
660
610
20-41
600
24''
1350
840
770
718
20-41
700
28"
1450
955
875
815
24-41
800
32"
1650
1070
990
930
24-48


Size
PN40
DN
NPS (inch)
L
D
D1
D2
z-Φd
15
1/2"
130
95
65
45
4-14
20
3/4"
150
105
75
55
4-14
25
1''
160
115
85
65
4-14
32
1-1/4''
180
135
100
78
4-18
40
1-1/2''
200
145
110
85
4-18
50
2''
230
160
125
100
4-18
65
2-1/2''
290
180
145
120
8-18
80
3''
310
195
160
135
8-18
100
4''
350
230
190
160
8-23
125
5''
400
270
220
188
8-25
150
6''
480
300
250
218
8-25
200
8''
600
375
320
282
12-30
250
10''
650
445
385
345
12-34
300
12''
750
510
450
408
16-34
350
14''
850
570
510
465
16-34
400
16''
950
655
585
535
16-41
450
18''
1050
680
610
560
20-41
500
20''
1150
755
670
612
20-48
600
24''
1350
890
795
730
20-54
700
28"
1450
955
900
835
24-54
800
32"
1650
1135
1030
960
24-58


Size
PN63
DN
NPS (inch)
L
D
D1
D2
z-Φd
15
1/2"
165
105
75
55
4-14
20
3/4"
190
125
90
68
4-18
25
1''
210
135
100
78
4-18
32
1-1/4''
230
150
110
82
4-23
40
1-1/2''
260
165
125
95
4-23
50
2''
300
175
135
105
4-23
65
2-1/2''
340
200
160
130
8-23
80
3''
380
210
170
140
8-23
100
4''
430
250
200
168
8-25
125
5''
500
295
240
202
8-30
150
6''
550
340
280
240
8-34
200
8''
650
405
345
300
12-34
250
10''
775
470
400
352
12-41
300
12''
900
530
460
412
16-41
350
14''
1025
595
525
475
16-41
400
16''
1150
670
585
525
16-48
500
20''
1400
800
705
640
20-54


Size
PN100
DN
NPS (inch)
L
D
D1
D2
z-Φd
15
1/2"
165
105
75
55
4-14
20
3/4"
190
125
90
68
4-18
25
1''
210
135
100
78
4-18
32
1-1/4''
230
150
110
82
4-23
40
1-1/2''
260
165
125
95
4-23
50
2''
300
195
145
112
4-25
65
2-1/2''
340
220
170
138
8-25
80
3''
380
230
180
148
8-25
100
4''
430
265
210
172
8-30
125
5''
500
310
250
210
8-34
150
6''
550
350
290
250
12-34
200
8''
650
430
360
312
12-41
250
10''
775
500
430
382
12-41
300
12''
900
585
500
442
16-48
350
14''
1025
655
560
498
16-54
400
16''
1150
715
620
558
16-54