1. The body material is QT450 or WCB, and the chemical composition and mechanical properties meet the requirements of national standards. Material reports can be provided.

2. The valve body and inner parts are processed by CNC precision machine with high precision.

3. There are rubber soft seals and stainless steel hard seals available. The valve plate and other parts can also be selected according to the working conditions.

4. The valve seat is welded with stainless steel, which is more wear-resistant and has a longer service life.

5. The valve shaft is supported by self-lubricating sleeve bearings, which can reduce the friction produced during valve shaft transmission and reduce torque.

6. The world-famous brand Aksu epoxy resin spraying is used, and the spraying thickness is 250um.

7. Each valve must be tested in accordance with national standards when leaving the factory, and unqualified products will never.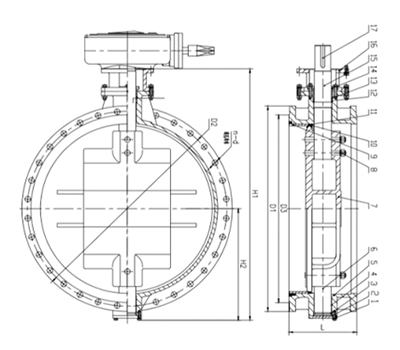 1. Executive standard:
| | | | | |
| --- | --- | --- | --- | --- |
| Name | Design and manufacture | Face to face Length | End Flange | Pressure Test |
| Reference Standard | GB/T 12238 | GB/T 12221 | GB/T 17241.6 | GB/T 13927 |
2. Material of Main Parts:
| | | | | | |
| --- | --- | --- | --- | --- | --- |
| Name | 5-Body | 7-Disc | 6-Stem | 10-Disc Sealing | 11-Body Sealing |
| Material | QT450-10 | QT450-10 | 2Cr13 | NBR | 304 |
3.Dimensions:
Size


PN10
PN16
DN
NPT
L
D2
n-d
D2
n-d
100
4"
127
180
8-φ19
180
8-φ19
125
5"
140
210
8-φ19
210
8-φ19
150
6''
140
240
8-φ22
240
8-φ22
200
8''
152
295
8-φ22
295
12-φ22
250
10''
165
350
12-φ22
355
12-φ28
300
12''
178
400
12-φ22
410
12-φ28
350
14''
190
460
16-φ22
470
16-φ28
400
16''
216
515
16-φ28
525
16-φ31
450
18''
222
565
20-φ28
585
20-φ31
500
20''
229
620
20-φ28
650
20-φ24
600
24''
267
725
20-φ31
770
20-φ37
700
28''
292
840
24-φ31
840
24-φ37
800
32''
318
950
24-φ34
950
24-φ40
900
36''
330
1050
28-φ34
1050
28-φ40
1000
40''
410
1160
28-φ37
1170
28-φ43
1200
48''
470
1380
32-φ40
1390
32-φ49
1400
56''
530
1590
36-φ43
1590
36-φ49
1600
64''
600
1820
40-φ49
1820
40-φ56
1800
72''
670
2020
44-φ49
2020
44-φ56
2000
80''
760
2230
48-φ49
2230
48-φ62
2200
88''
800
/
2400
96''
850
2600
104''
900
2800
112''
950
3000
120''
1000